Mireia Campanera Reig (URV Postdoctoral researcher)
PhD in Social Anthropology by the University of Barcelona (2016) based on an ethnography carried out between 2008 and 2015 with the Kukama-Kukamiria indigenous population from the Marañón River, Peru. The thesis won the Extraordinary PhD Award. Her pioneering investigation investigates aquatic cosmology, fishing culture and socio-environmental conflict in the Pacaya Samiria National Reserve and its zone of influence. She has collaborated with public institutions and other organizations in carrying out research in the areas of environment, international cooperation, among others topics as women in prison, and youth. She has carried out research stays at the University of Costa Rica and in Peru, financed by AECID and CNRS (France). Nowadays she is still doing research on environmental issues about Peruvian Amazon, although in 2018 started a new line of study in Anthropology of Food. From 2017, she is a member of the Research Group: Grup d'Antropologia Social from Universitat Rovira i Virgili (URV) (2017 SGR 00023). She has worked as an adjunct lecturer at the University of Lleida and University of Barcelona, and since 2017 as postdoctoral researcher and adjunct lecturer at the URV.
Research interests: environment, indigenous people, Amazonia, Food, gender
Teaching: Undergraduate Programme on Anthropology and Human Evolution, Minor in Social Entrepreneurship and Sustainable Development Goals
Sandra Caponi (María Zambrano postdoctoral researcher) Coming: septiember 2022
PhD in Philosophy (Unicamp, 1992), Full Professor in the Department of Sociology and Political Science at the Federal University of Santa Catarina. Senior Postdoctoral Fellow at the École des hautes études en sciences sociales, EHESS (France). Research stay (2019) at the University of Buenos Aires-UBA (Argentina) and Université Paris Diderot- Paris VII (France). Coordinator of the Capes-Cofecub Project, with the Université de Paris-8- Vincennes- Saint-Denis, entitled: "The dissemination of expert knowledge in the field of childhood" (2019-2022). She is vice-president of the Brazilian Society of Bioethics - Santa Catarina Regional (SBB-SC). Ad hoc consultant for several scientific publications. She has been visiting professor at EHESS (Paris-France), the National University of Colombia, the National University of Rosario (Argentina) and College de France. She has published several books, including: "De la compaixão à solidariedade: uma genealogia da assistencia médica" (2000), "Loucos e Degenerados : uma genealogía de la psiquiatría ampliada" (2012), "Uma sala tranquila: neurolépticos para uma biopolítica da indiferença", (2019). She is International Institutional Ambassador of the Faculty of Psychology of the National University of Rosario, Argentina.
Research interests: Epistemology and History of Psychiatry, History of Medicine and epidemics, Sociology of Health, Bioethics
Sam Fernández Garrido (Margarita Salas postdoctoral researcher)
Biologist, her/his PhD is a qualitative study that investigates the role of gender, contact and emotions in the clinical care of intersex people in Spain, as well as the construction of expert knowledge around sexual difference and intersexualities. He/She has worked as a consultant in local feminist LGTBI policies for different city councils and entities, initiating research and training processes. Currently, is a post-doctoral researcher and carries out the research-creation project "Vaginal dilators, transdisciplinary dilations", on the use of vaginal dilators and their ontological implications (URV and UGR). She/He is a member of DAFITS (Department of Anthropology, Philosophy and Social Work) and MARC (Medical Anthropology Research Center) of the URV, and of the Department of History of Science and Pathological Anatomy of the University of Granada.
Research interests: Queer studies, Body, Medical Anthropology, Biological crafts, Naturocultures
Nofit Itzhak (MSCA Marie Curie postdoctoral researcher)
PhD in Anthropology from the University of California (2016). She is currently a Marie Sklodowska-Curie postdoctoral researcher in the Department of Anthropology, Philosophy and Social Work at the URV, and was previously a Beatriu de Pinós researcher. Her current research project studies people's relationship with the future, in times of crisis and social change, analysing their relationship with childhood, parenting and children's use of digital technologies. Her previous research projects include a study of Catholic charismatic humanitarian missions in France and Rwanda, and a study of neo-Shamanic practices in the United States. Her previous work has been supported by the Wenner Gren Foundation, the Society for Psychological Anthropology, and the University of California, among others.
Research interests: Youth, Religion, New Technologies
Teaching: Master in Medical Anthropolopgy and Global Health
Alejandro Morcuende González (María Zambrano postdoctoral researcher)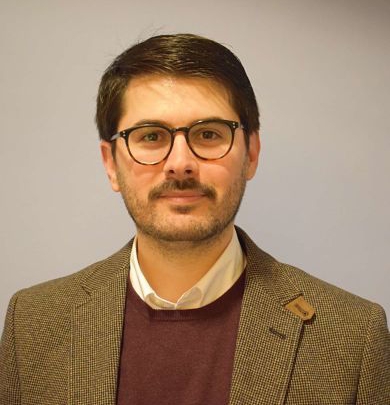 Sociologist and PhD in Geography (2018) from the Universitat de Barcelona. He has been a postdoctoral researcher (FAPESP, 2019-2022) at the Department of Geography of the UNESP (Brazil), in the project "Fragmentação socioespacial e urbanização brasileira: escalas, vetores, ritmos, formas e conteúdos". He has also participated in the projects "Diversificación espacial del comercio y el consumo en la Ciudad contemporánea" of the UNAM (México, 2015-2016), and "Commercio, consumo e Città: pratiche, pianificazione e governance per l'inclusione, la resilienza e la sostenibilità urbane" of the Universtà di Napoli l'Orientale (2017-2019). He coordinated the Postgraduate and Master in Advanced Urban Studies at the Universitat de Barcelona (2018-2020). His lines of research focus on the processes of differential urbanization and the resulting transformations of everyday life in urban peripheries.
Research interests: Urbanization, Daily life, Urban peripheries
María Zapata Hidalgo (Margarita Salas postdoctoral researcher)
PhD in Feminist and Gender Studies (UPV-EHU, 2019), degree in Psychology (USAL, 2006), degree in Social and Cultural Anthropology (UNED, 2014), Master in Feminist and Gender Studies (UPV-EHU, 2014). She has carried out research in the field of health and mental health, gender and feminism, and ethnography of the body and affects. She is currently a postdoctoral researcher and an independent consultant and trainer in gender for public and private entities. She also belongs to the Feminist Anthropology Research Group-AFIT (UPV-EHU) with which she collaborates in different research projects on community networks, care, new citizenship and social movement.
Research interests: Mental health, body and emotions, gender and feminisms, mutual support networks, methodologies in research.